Welcome to www.eastpenn.org, the web site of the

The USA's largest modular trolley modeling group!
If you share an interest in the history and/or modeling of streetcars, trolleys, interurbans, subway or rapid transit cars, light rail vehicles or any other aspects of electric transit railroading, prototype or model, we encourage you to find out more about the East Penn Traction Club of Philadelphia, Pennsylvania through this web site.
Click on a topic below to learn more about our club and the hobby of model trolleys. Enjoy!
Last Updated 30-Dec-2016
Visit Our 'Light Rail Vehicle' Modeling Page!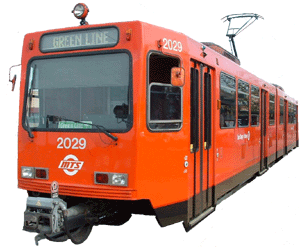 ---
© copyright 1996-2017, East Penn Traction Club, Inc., Philadelphia, PA, USA. All rights reserved.
Contents of this site may not be used or distributed without the express permission of the East Penn Traction Club, Inc.
(Photo of #8534 by Dave Gairo, Brill "Bullet" and Norristown N5 by Gary Reighn, San Diego Trolley by Ed Halstead)
Site Launched: March 1, 1996
For more information or to comment on this site, contact

webmaster@eastpenn.org
EPTC Anti-SPAM Policy
About this site